Line-up 2022 
Line-up 2022
FRIDAY SEPTEMBER 9TH 2022
SINGER SONGWRITER STAGE
17:00-17:45 – Songwriters in the round – Luna/Mats D/Per/Clara
18:00-18:45 – Songwriters in the round – Izak/Moa/Emma/Steve
19:00-19:30 – Kelly Bayfield & David Booth + MiQa.El
20:45-21:45 – Mississippi songwriters showcase – Double Dee/Sean G/Drew Y/Amy L
MAIN STAGE
19:45-20:30 – Anna Smyrk Band
20:45-21:30 – Self Rising Flour
22:00-23:00 – Louisiana Avenue
SATURDAY SEPTEMBER 10TH 2022
SINGER SONGWRITER STAGE
14:30-15:00 – Salmon River Dixieland band
15:15-15:45 – Anna Smyrk (Solo)
CHURCH
16:00-17:00 – Elvis Gospel
MAIN STAGE
16:45-17:30 – Songwriters in the round – Moa/Emma/Steve
17:45-18:15 – Kelly Bayfield & David Booth + MiQa.El
18:30-19:30 – Mississippi songwriters showcase – Double Dee/Sean G/Amy Lott
19:45-20:45 – Songwriters in the round – Luna/Mats/Per/Clara
21:00-21:45 – Self Rising Flour
22:00-23:00 – Drew Young Band (Everyone joins in on some covers and originals)
Drew Young band - USA
Drew has been crisscrossing the globe soaking up stories and experiences and translating the human experience into songs of longing, love, loss, and learning. The music of Drew is a wholly original experience; some have called him the Americana Crooner, a moniker that fits him well. Drew has remained active over the years and has written songs and helmed the producer's chair for other artists, handling A&R duties for record labels and brands and has been a fixture in the global music business.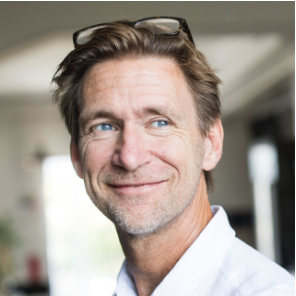 Mats Dernánd - SWE
Is an artist and songwriter based in Örebro. Mats has written music all his life, but only now after he turned 50 he released music in his own name. His songs have been played extensively on Swedish radio but have also found their way to radio stations in both the USA and Canada. "She's Called Grace" and "Judas" have been awarded prizes in the world-leading USA Songwriting Competition two years in a row. Mats music include genres from instrumental neo-classical pieces, to pop, rock and americana. The texts are usually about faith, life and relationships.
Was a part of the first Tiveden song writing in 2021.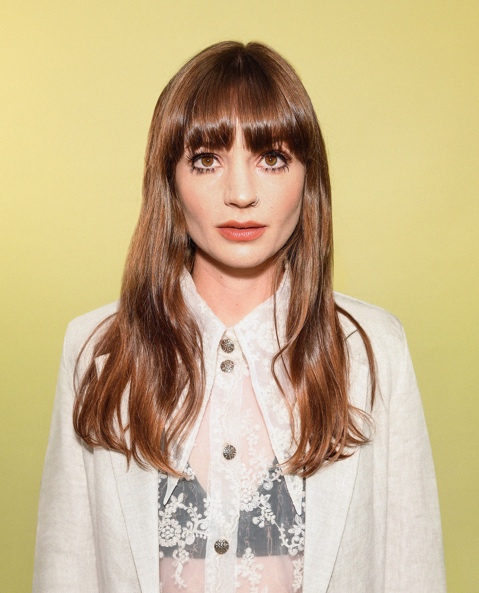 Anna Smyrk band - Australia
With a voice described as 'truly astonishing' by Rolling Stone, Anna Smyrk is a powerful singer, song-maker and storyteller from Australia. Her songs are anthemic indie-rock bombshells, equally satisfying for word nerds and pop obsessives alike.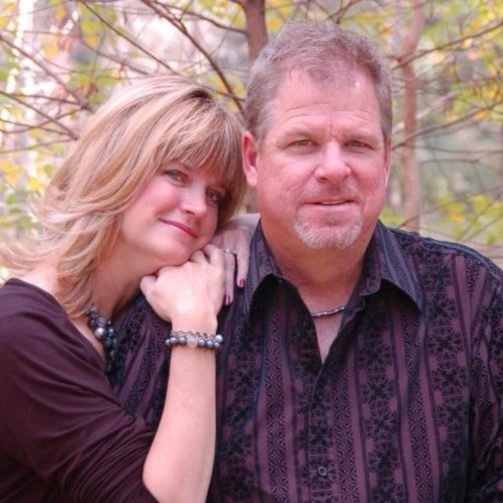 Darwin and Dana Nelson - USA
The musical collaboration of husband and wife singer-songwriters, Darwin and Dana Nelson known as "Double Dee" (aka: The Mayor & First Lady of Lucedale, Ms.) has taken them far from coastal Gulfport and their small town roots of Lucedale, Mississippi and carried them across the country where they have created a name for themselves at numerous songwriting festivals, house concerts, and top flight venues. Darwin and Dana have released seven albums since 2006, including their most recent "Adjust The Sails", produced by their friend and legendary singer/songwriter/producer Keith Sykes from Memphis, Tenn. They have been touring in promotion of their new album since the spring.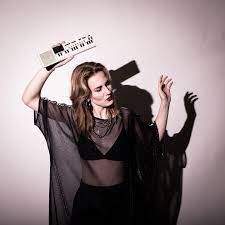 Clara Alm - SWE
Clara Alm is an artist and songwriter with a certain love for drama, the 80s and catchy uptempo beats, based in Örebro, Sweden.
Kent Lundberg & Lasse Magnell - SWE
"Together with Elvis"
En musikalisk resa genom Elvis repertoar tolkad med sång och piano. En låtskatt som omfattar drygt 800 inspelade titlar och spänner över en mängd olika stilar allt från ballader, lovesongs country, till blues och inte minst gospels! Vi blandar de mest kända och älskade låtarna med pärlor du sällan eller aldrig hört.  Vi kryddar också med lite kuriosa ur Elvis liv och enastående karriär.
Konserten är i kyrkan i samarbete med Sensus. 
Emma Nilsdotter Hjerling - SWE
Emma has worked as a professional studio, choir and solo singer for more than 25 years. She has countless studio jobs behind her, including as a choir singer behind Britney Spears (Toxic, My Prerogative) and Sophie Ellis Baxter, songwriter for Kylie Minogue (The One) and has performed live behind most major Swedish artists.
For twelve years she was a member of the world-famous acapella group The Real Group with the world as her field of work.
Emma is heard singing in the spring in the live TV show Let's Dance where she is part of the Let's Dance orchestra.
Izak Danielsson Kihlström - SWE
Singer songwriter from Karlstad, Sweden.
His music influences from jazz, pop and folk, with a strong focus on sound and virtuoso guitar playing.
Sean Gasaway - USA
Sean is a Two-Time Native American Music Awards Song of the Year winning songwriter, entertainer, music publisher, record executive, record producer, and content creator also known as Bacon and Gasoline. Sean is a native of Escatawpa, Mississippi and is currently the Education Coordinator with the Mississippi Songwriters Alliance.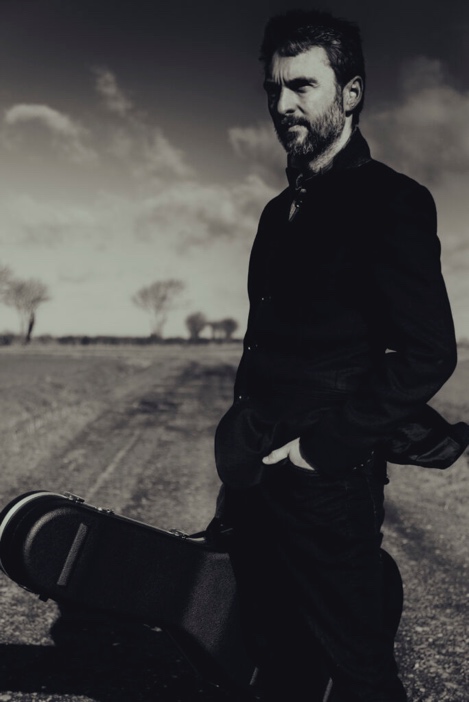 David Booth - UK
Singer songwriter from England
Influences from Finn Brothers, Nick Drake, and the raw, unplugged performances from the Seattle "Grunge' scene of the early '90s. All funnelled through a music knowledge grown from a childhood playing cornet in brass bands, a youth playing punk rock drums and later, guitar. A reverence for the power and craft of songwriting and the experience of two decades as producer. Like the hills of his native Derbyshire, the voice is weathered, unpolished, honest.
Lousiana Avenue - SWE
This is the band that, since 2012, has offered a carnival atmosphere at festivals and large corporate events, churches, crowded bars and ski lodges! Regardless the weather, time and place, the band succeeds in the art of transporting their audience to New Orleans and Mardi Gras. Music, dance, fellowship, joy and a full brass section. It is not unusual for the evening to end with the audience hooking up in a carnival train…
Hilma - SWE
Is a singer-songwriter from southeast of Sweden and released her first single 2021.
Per Alexanderson - SWE
Per is a husband, father, pastor and freelance musician. Love football, movies and music. He has been writing his own music since his teens, but did not release his music until 2019. He has played guitar on several other artists' records and played on Live at heart and was a part of the first Tiveden Song writing 2021.
Steve Eriksson - SWE
Singer songwriter from Gothenburg
Steve lived in New York in the mid 80's and have played with musicians like Pete Seeger, John Gorka, Mikael Rickfors, Stefan Andersson, (Steve Holly Paul Macartney drummer) Lee saterfields, Mark Dann, Violent Femmes, The Heirs, Howie Wyeth (Bob Dylan's first drummer) Lasse Wellander, Lotta Engberg, Lasse Kronér,  Nikki Matheson (Keltic singer) etc.
Luna Keller - Spain/Germany
Singer songwriter.
Growing up between two cultures and surrounded by music Luna Keller is a singer-songwriter with a unique perspective fueled by her curiosity and a deep connection to her emotions through songwriting.
Amy Lott - USA
Multi-Instrumentalist and Singer-Songwriter, Amy Lott, hails from Meridian, MS, the birthplace of Country Music. Make no mistake though, Amy Lott is not a country artist. Yes, she is influenced by her birthright but Amy has transcended the genre and has created a sound that, while reminiscent of Linda Ronstadt, Flying Burrito Brothers and others, is decidedly her own sound. Amy's music reflects her own personal struggles and achievements and stands alone as a beacon of optimism.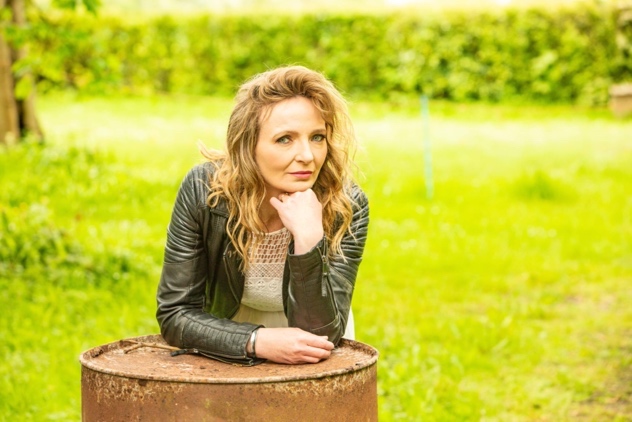 Kelly Bayfield - UK
Singer Songwriter from England
Kelly Bayfield brings together a perfect blend of classic Laurel Canyon singer-songwriter & folk singing traditions from both sides of the Atlantic. Her pure voice is unmistakably English but finds itself equally at home with Americana, jazz, pop, or country.
Self Rising Flour - Finland
In 2021, Self Rising Flour released a full-length album and a Christmas single of their original, straightforward bluegrass music, attracting international attention through the Bluegrass Today news site. You can expect vocal harmonies and tight rhythms, 1970s fashion threads, original compositions, and well-chosen classics.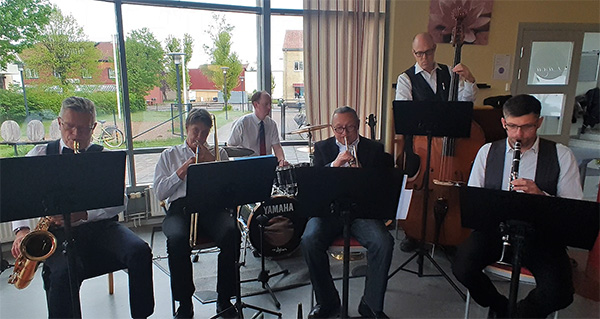 Salmon River Dixieland Band – SWE
A local band playing the classic music of New Orleans. After talking about starting a smaller dixie band within the larger Laxå Wind Orchestra, they finally got it done, and did their first gig last year. Happily playing happy jazz!